Philips Respironics | Comfort Gel Blue Nasal Mask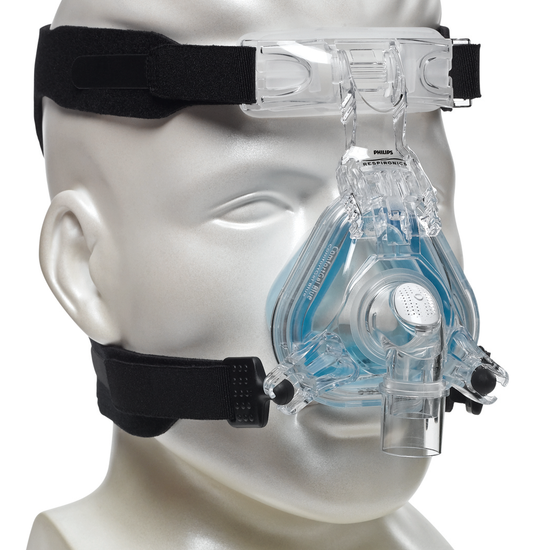 Philips Respironics | Comfort Gel Blue Nasal Mask
Product Description
Description

Features

What's Included

Helpful Product Information
Description
With minimized pressure points, noise reduction and redirected air flow away from the bed partner, this mask's premium blue gel forms an effective seal. The premium forehead pad improves comfort and maintains an effective fit.
Features
The ComfortGel Blue Nasal CPAP Mask offers angled exhalation micro ports to help reducing overall airflow noise.

The new ComfortGel Blue Nasal Cushions and Original Gel Nasal Cushions are interchangeable.

The ComfortGel Blue continues to

use a dual, gel cushion and silicone flap system.

Premium Forehead Pad The ComfortGel forehead pad is larger with more cushioning that is easy to fit and improves comfort.

The forehead support comes with a StabilitySelector, which is adjustable and allows for movement. The pad attaches to a base that can swivel up or down; accommodating the angle of your forehead.

The new diffusion vent and 360 Degree elbow disperses air softer and quieter than before.

The elbow angles the ports away from your bed partner and the micro size diffuses airflow quietly, reducing overall sound.
What's Included
ComfortGel Blue nasal mask (Frame, cushion, headgear and mask tube)
Helpful Product Information
Mask replacement recommended at 6-12 months.
Cushion should be replaced every 6-12 months or as needed to maintain a good seal.
Wipe mask and cushion daily to minimize dirt and oils from the skin.
Wash mask, cushion and tubing weekly (or more frequently if needed) in warm, soapy water. Lay on a towel to air dry.