ResMed | AirSense 10 AutoSet APAP Machine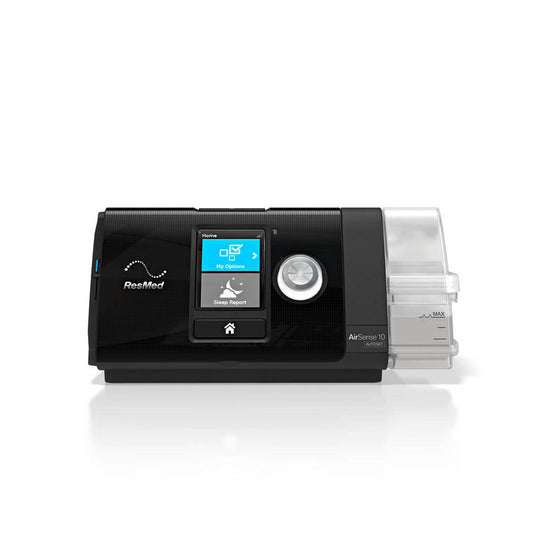 ResMed | AirSense 10 AutoSet APAP Machine
Product Description
Description

Features

What's Included

Helpful Product Information
Description
Check out the AirSense 10 AutoSet APAP Machine from ResMed. As one of the top devices from a leading brand, it will help you sleep and breathe better in no time!
Understanding its key features allows you to make the right choice for you. We cater to each customer's needs and doctor's advice.
It's one of the first APAP machines to adjust to the user's prescribed amount of air automatically. You can feel comfortable in your bed without constant visits to the doctor.
Find this innovative medical device at Liberty Sleep Apnea in Winnipeg. Visit our store or order online today!
What is the AirSense 10 Autoset APAP Machine?
An APAP (automatic positive airway pressure) machine sends oxygen to your airway (mouth, nose, and throat). However, different devices have unique features. 
The AirSense 10 Autoset APAP machine is a medical device that automatically adjusts its airflow to treat sleep apnea. Its built-in humidifier, climate control system, and user-friendly controls provide a good night's sleep. 
Why choose the AirSense 10 Autoset APAP Machine?
There are several reasons the AirSense 10 Autoset APAP Machine stands out when compared to its counterparts. Some of the device's features include:
Advanced event detection

AutoRamp

Consistent humidification

The quiet Easy-Breathe motor

The user-friendly controls, intuitive interface and color LCD screen

The built-in ambient light sensor
It doesn't matter what type of sleep apnea you have. This ResMed device is great because it caters to various types of apneas.
AutoRamp allows your device to deliver low air pressure until you fall asleep. It automatically adjusts to the appropriate level when you're sleeping.
The humidifier keeps you comfortable all night. It ensures your device isn't too hot or chillingly cold.
Are you worried about waking your partner up at night? You don't have to with the AirSense 10 APAP Machine's almost silent motor.
The best part is everyone can use this device! Its easy navigation system makes it accessible to all types of patients.
The machine's screen adjusts to the room. If you get up at night, you won't disturb your bed partner — the light turns off when you return to bed.
Who can use the AirSense 10 Autoset APAP Machine?
Anyone with the proper prescription from their doctor can use the AirSense 10 Autoset APAP Machine. It's great for a variety of sleepers including:
People with obstructive sleep apnea

People with central sleep apnea
The unique aspect of this machine is its ability to adjust to its user's required air pressure. Other devices require frequent doctor visits to change your prescription, while the AirSense 10 Autoset's technology adjusts to your needs automatically.
What is the AirSense 10 Autoset APAP Machine's warranty?
At Liberty Sleep Apnea, we offer top quality ResMed products at great prices. The AirSense 10 Autoset with a humidifier has a three-year warranty.
We strive to give our customers the best experience, so we have a flexible return policy.
If you're not completely satisfied with your purchase, we offer refunds. Check out our FAQs page to learn more.
Features
Advanced event detection
The AirSense

™

10 AutoSet differentiates between obstructive and central apneas so you can be confident that you are always receiving appropriate therapy.
AutoRamp™
ResMed's new AutoRamp feature with sleep onset detection delivers a low pressure to help you fall asleep with ease. Once you're asleep, your device comfortably ramps up the pressure to ensure the prescribed level is delivered the moment you need it.
Consistent humidification throughout the night with the integrated HumidAir™ humidifier and optional ClimateLineAir™ heated tube with Climate Control technology can provide a more comfortable experience.
The quiet Easy-Breathe motor makes for a peaceful environment for you and your bed partner.
The user-friendly controls, intuitive interface and color LCD screen make it simple to navigate menus and customize comfort settings.
The SmartStart™ function begins your sleep apnea therapy as soon as you breathe into your CPAP interface. When you remove your CPAP interface, it stops automatically after a few seconds.
The built-in ambient light sensor adjusts to the brightness of the room. So if you need to get up during the night, the screen's back light won't disrupt your bed partner. The light also turns off automatically, so you can settle back to sleep without disturbance.
What's Included
AirSense

™

10 Autoset, with humidifier (2 year warranty)
Carry case and power cords
AirSense

™

10 User Manual
Lifetime support from our team of medically trained sleep professionals
Helpful Product Information