ResMed AirSense 10 Elite CPAP Machine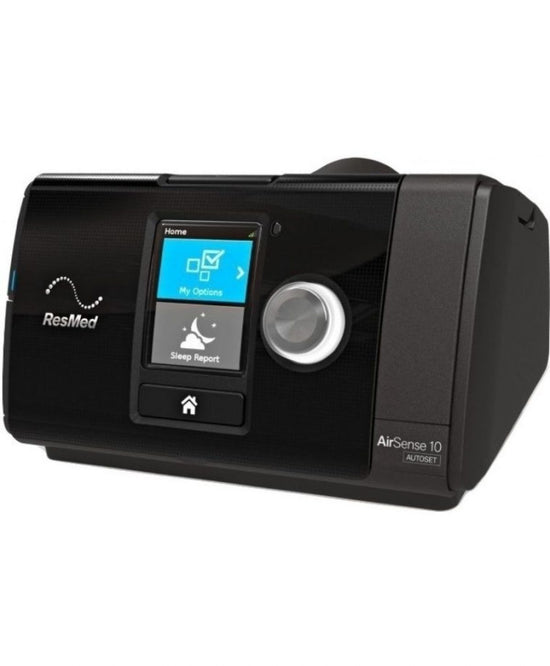 ResMed AirSense 10 Elite CPAP Machine
Product Description
Description

Features

Helpful Product Information
Description
ONLY AVAILABLE IN MANITOBA WITH PRESCRIPTION & APPOINTMENT
Premium fixed-pressure device with integrated humidifier and wireless communications. Provides advanced event detection, including central sleep apnea and Cheyne-Stokes respiration detection, and remote diagnostic information in AirView™. Optional pulse oximetry monitoring.
Integrated HumidAir™ Humidifier

Included SD Card

EPR™ Pressure Relief

Color LCD Display

My Options Menu

Integrated Light Sensor

Advanced Sleep Data Reporting
Our other CPAP Machines Canada:

Features
Press start and go.
The AirSense 10 Elite CPAP machine has been designed to make therapy easy. With no complicated settings or menus to navigate, simply press Start and you're ready to go.
Advanced event detection
The AirSense 10 Elite includes central sleep apnea (CSA), respiratory effort related arousal (RERA) and Cheyne-Stokes respiration (CSR) detection to provide treating physicians valuable insight into the continued health of your patients.
The algorithm has been designed to provide data to assist the physician in identifying indications of CSA, RERA and CSR, which you can monitor through AirView, to quickly and accurately provide patients with information to seek the right treatment.
AutoRamp™
ResMed's new AutoRamp feature with sleep onset detection delivers a low pressure to help you fall asleep with ease. Once you're asleep, your CPAP machine comfortably ramps up the pressure to ensure the prescribed level is delivered the moment you need it.
Consistent humidification Consistent humidification throughout the night with the integrated HumidAir™ humidifier and optional ClimateLineAir™ heated tube with Climate Control technology can provide a more comfortable experience.
The quiet Easy-Breathe motor makes for a peaceful environment for you and your bed partner.
The user-friendly controls, intuitive interface and color LCD screen make it simple to navigate menus and customize comfort settings.
The SmartStart™ function begins your sleep apnea therapy as soon as you breathe into your mask. When you remove your mask, it stops automatically after a few seconds.
The built-in ambient light sensor adjusts to the brightness of the room. So if you need to get up during the night, the screen's back light won't disrupt your bed partner. The light also turns off automatically, so you can settle back to sleep without disturbance.
Helpful Product Information