ResMed | AirFit N10 Nasal Mask (Complete Mask System)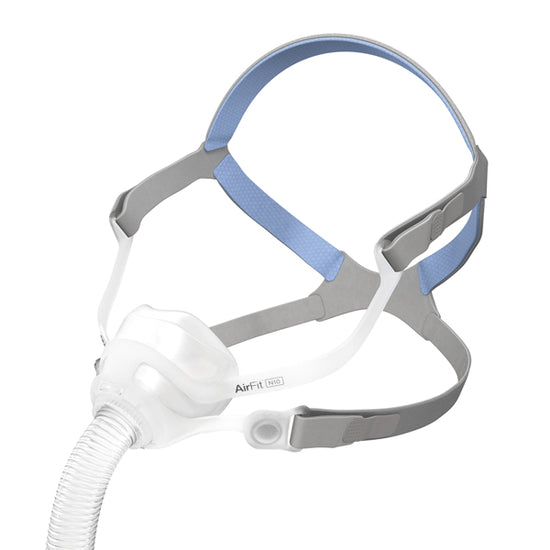 ResMed | AirFit N10 Nasal Mask (Complete Mask System)
Product Description
Description

Features

What's Included

Helpful Product Information
Description
The ResMed AirFit N10 Nasal Mask is an unobstructive support with an under-eye frame for a clear line of sight. Modified dual-wall SpringAir cushion ensures a gentle and secure fit that delivers a comfortable, high performance seal. EasyClick self-aligning headgear clips for easy donning.
Magnetic Headgear Clips

Minimal Contact Points

Circular Venting

Spring Air Dual-Wall Cushion

SoftEdge Headgear

Soft Wraps Included
Features
Simple. With minimal parts and an intuitive key-clip that connects the cushion to the frame, the AirFit N10 is easy to use, and quickly reassembles after cleaning. EasyClick self-aligning headgear clips also make it simple to put on and take off.
Proven performance. The Spring Air cushion fits comfortably on your face and the SoftEdge™ headgear features slimmed-down straps for maximum comfort and fewer facial marks. Circular diffused venting directs exhaled air away from you and your partner — creating a quiet, peaceful sleeping environment.
Visual freedom. With a compact design and sleek frame that's positioned underneath the eyes, the AirFit N10 provides unrestricted vision. You can read or watch TV — even wear glasses — while your therapy ramps up.
Stable seal. The Spring Air cushion is designed to provide you with a comfortable seal as you move during sleep. The lightweight, durable flexi-tube is integrated directly into the frame, so it easily accommodates 360° movement without compromising seal.
What's Included
Cushion
Frame
Headgear
Clips
Connector hose
Helpful Product Information
FAQs
How often should I clean my CPAP Mask?
It is recommended to do daily cleaning of this product to ensure clean and effective therapy. Learn more about cleaning your CPAP equipment click here.
How often should I replace my CPAP Mask?
Health Canada recommends replacing your CPAP Mask every 6 months. Over time, CPAP Mask components will wear and stretch, leading to reduced fit and increased mask leaking. Additionally, bacteria and organic material from your skin, hair, and breath will build up on your mask over time.
Is this CPAP mask compatible with my CPAP Machine?
This mask is compatible with any CPAP Machine from any manufacturer, EXCEPT for the ResMed AirMini. This mask will not work with the ResMed AirMini Travel CPAP.