Medistrom | 50W Solar Panel (For Pilot-12 & Pilot-24 Lite)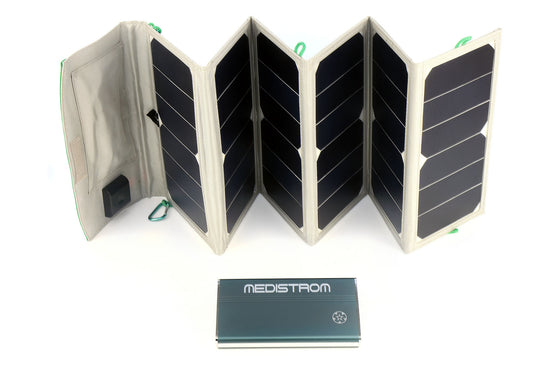 Medistrom | 50W Solar Panel (For Pilot-12 & Pilot-24 Lite)
Product Description
Description

Features

What's Included

Helpful Product Information
Description
A solar powered charging device designed for the Medstrom Pilot-12 Lite and Pilot-24 Lite battery.
The charging time will vary dependent on the weather and available sunlight.
To be used only for charging and shouldn't be used as a backup power supply.
2 charging ports allow you to charge your mobile devices at the same time (charging 2 devices at the same time will increase total charging times for both devices).
Features
A great option to have while camping, hunting, travelling or when there is no access to electricity. Keep your Medistrom battery pack charged and ready to go when you need it!
Can be layed flat, folded, hung to maximize sunlight and space. Folds up into a small pack when not in use.
What's Included
1 set of Medstrom solar panels with protective cover.
4 carabiners for hanging.
1 Charging cable
Helpful Product Information
CAUTION: Do not charge your battery while connected to your CPAP/APAP device!