Contour | CPAP Max Pillow 2.0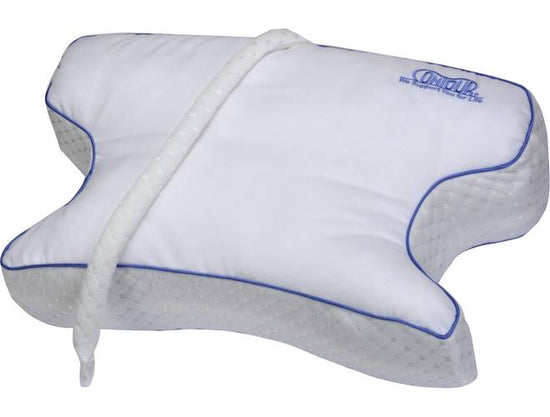 Contour | CPAP Max Pillow 2.0
Product Description
Description

Features

What's Included

Helpful Product Information
Description
Helps to eliminate mask movement and prevent leaks which can lead to a poor night's sleep. Minimizes pressure on the face and provides great head and neck support. Has a removable layer to adjust pillow thickness.
CPAPMax 2.0 Pillow helps eliminate mask shifting & air leaks that can keep you up at night!

Exclusively Designed For CPAP Machine Users!

Reduces Mask Shifting And Interference!

Helps Stop Air Leak Noises Which Awaken You!

Minimizes Pressure on Face

Provides Better Head, Neck and Shoulder Comfort!

Removable Layer To Adjust Pillow Thickness!

Pressure-free side cutouts
Features
- Reduce leaks, noise, dry eyes and facial lines with this adjustable pillow.
- Removable foam layers to customize pillow height
- 2 different cover sides (Cool 3D Air Flow Mesh, Fiberfill)
What's Included
- Tri-layered foam pillow
- Removable cover
- Hose tether
Helpful Product Information