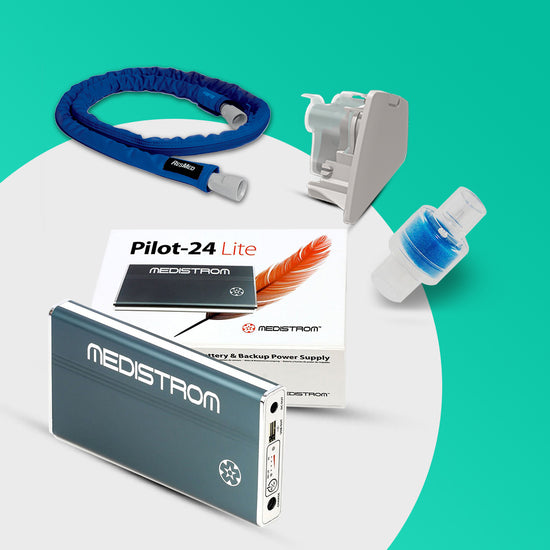 Product Description
Description

Features

What's Included
Description
BUNDLE & SAVE!
Don't get stuck without your therapy while out camping with this package consisting of:
1 Medistrom Pilot-24 Portable Battery (works with AirSense10 machine)
2 In-Line H.M.E. Waterless Humidifiers
1 Air10 Side Cover
1 CPAP Tubing Wrap
Features
Medistrom Pilot-24 Lite Battery:
Not designed as a permanent power device, but to avoid power interruption during the night. Used as a power source in remote locations where power may not be readily available (camping, road trips and during air travel). This battery can be used as a charging station for other electronic devices.
H.M.E. In-Line Humidifier:
Reuses moisture from your exhaled breath. Small shape makes it easier to travel with. It also uses less electricity which provides a longer charge with your battery pack. It is a water less humidification that requires no additional power and takes up very little space. A great alternative to large humidifiers.
Air10 Side Cover:
It will automatically turn off the HumidAir humidifier. Colour to match AirSense10 machine.
Tubing Wrap:
6.5 feet length covers the entire length of the tube. Reduces rainout in tubing caused by heated humidification.
What's Included
1 Medistrom Pilot-24 Portable Battery (works with AirSense10 machine)

2 In-Line H.M.E. Waterless Humidifiers

1 Air10 Side Cover

1 CPAP Tubing Wrap