ResMed | CPAP Mask Wipes 62/tub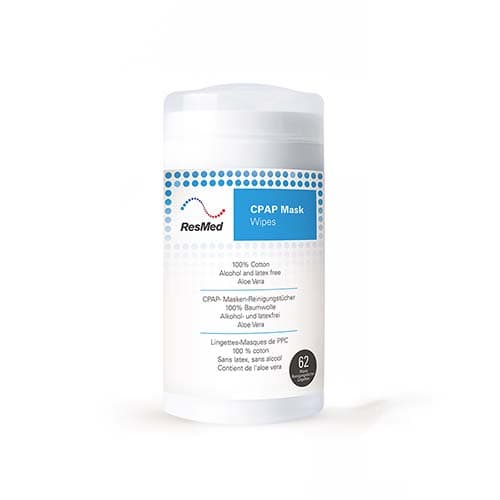 ResMed | CPAP Mask Wipes 62/tub
Product Description
Description

Features

What's Included

Helpful Product Information
Description
Fast and easy way to clean your mask regularly. Removes dirt, oils and other mask residues, without harming the mask. Cleaning of the mask should be done daily to optimize the seal of the mask and reduce the risk of irritation.
Practical: 

62-wipe container for home use.

Efficient:

 quickly 

remove dirt, oils and organic residues for a healthier, more comfortable therapy experience and an optimized seal. Please note that this product does not replace regular cleaning.

Natural: 

these 100% cotton wipes contain an unscented cleaning agent and aloe vera and are free from alcohol and latex.
Features
- 100% cotton wipes
- Alcohol free
- Latex free
- Easy dispensing canister
What's Included
1 tub containing 62 Aloe Vera mask wipes
Helpful Product Information
- Remove dirt, grease, oils and other debris without using harsh chemicals
- Regular mask maintenance and cleaning is still required for best performance.