BUNDLE | Essential Accessories Package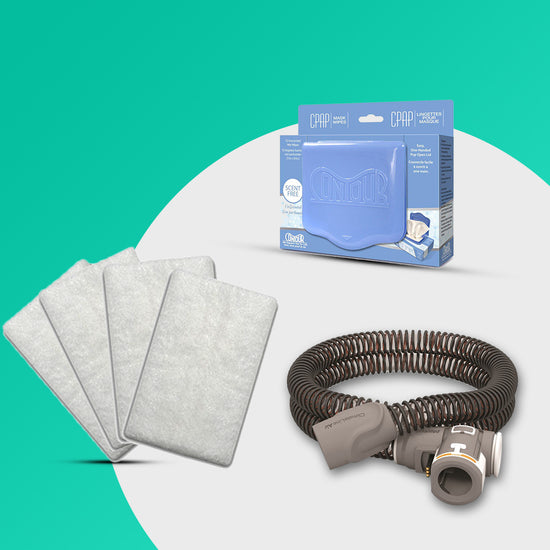 BUNDLE | Essential Accessories Package
Product Description
Description

Features

What's Included
Description
BUNDLE & SAVE!
Gather the supplies you need for the entire year with this package consisting of:

2 ClimateLineAir heated tubing
6 S9 Filters (used in AirSense10 machines)
5 boxes of Contour CPAP Wipes (72 wipes/box)
Features
ClimateLineAir Heated Tubing:
Smaller, slimmer and sleeker than the average mask tubing, resulting in increased flexibility and less mask drag for a more comfortable night's sleep. Unique to ResMed. Virtually eliminates condensation in the tubing, which can occur if the temperature drops during the night. Because the system measure's temperature at the mask, it will remain at the preferred setting, regardless of changes in ambient temperature or humidity.
S9 Filters:
Designed to remove dust, debris, hair and other particles, preventing them from entering the device. Cleans the air that is circulated through your device and exiting your mask. Extends the life of your device.
Contour Mask Wipes:
Easy to use dispenser. Uses natural ingredients which makes it soft and gentle on your hands and face. Alcohol free. New flat pack design with 72 wipes/pack. Available in unscented.
What's Included
2 ClimateLineAir heated tubing

6 S9 Filters (used in AirSense10 machines)

5 boxes of Contour CPAP Wipes (72 wipes/box)